The project consists of seven work packages: one for project management (WP1), three research work packages (WP2, WP3, WP4), one for the development of the ICT platform and final analysis (WP5) and one for dissemination exploitation activities (WP6). A seventh WP considers the ethical requirements of the project (WP7).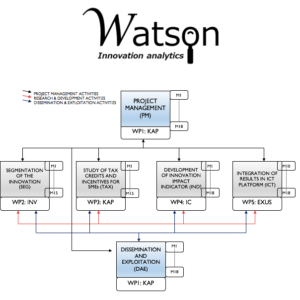 WP1 – PROJECT MANAGEMENT
The objectives of this WP are the following:
Manage efficiently the project and the consortium
Review and assess the work being carried out in the project
Ensure that all aspects of the EC requirements for communication and reporting are met. Create an appropriate management framework that links together all the project components
Partners involved: All Partners will be involved in this work package.
WP2 – SEGMENTATION OF SME INNOVATION
This WP will review and define existing segmentation methods of SMEs innovation, identify their shortcomings and gaps. This will serve to identify the main indicators for the innovative SMEs segmentation
The WP will then develop a comprehensive database and dataset of variables around SME innovation to support a new segmentation. This task will gather bespoke data to be used as the basis of a realistic segmentation of innovating SMEs including new parameters such as the smart specialisation priorities of the regions.
The WP will then develop a new segmentation of innovating SMEs based on the data gathered in the previous tasks.
Partners involved: Inventya, Exodus and Kapitalise.
WP3 – STUDY OF R&D TAX CREDITS AND INCENTIVES FOR SMES 
This WP has the objective of reviewing current practices in R&D tax credits and Incentives, in order to study the governance of R&D tax credit and incentives. This task will gather primary data through qualitative semi-structured interviews with representatives from SME representative organisations, government agencies and interested stakeholders.
The WP will then study the impact of R&D tax credits and incentives on SME innovation. This task carry quantitative analysis through surveys that gather primary data on the implementation and impact of R&D tax credit and incentive schemes on SME innovation.
Partners involved: Kapitalise, Inventya and University of Maastricht.
WP4 – DEVELOPMENT OF INNOVATION IMPACT INDICATORS
This WP will examine how private and social values of innovation and R&D vary between different segments of innovating firms, and will do so by computing the returns of R&D and innovation from firm level regressions. These can be aggregated according to the various segments, which will lead to segment specific social values.
The WP will then contrast how the social values of innovation from different SME segments align with public support levels for these segments. The partners will examine if there are significant differences in social values between different segments. A database will be delivered from the study results.
The activities will then explore re-alignments of public R&D support that could lead increased efficiency by examining how the social value of different segments relates to the amount of government support those segments receive for selected countries.
Partners involved: London School of Economics, Imperial College, University of Maastricht and Kapitalise.
WP5 – INTEGRATION OF RESULTS INTO ICT PLATFORM
This WP will design and develop an online tool that allows users (e.g. regional or national government agencies) to explore which segments should be supported in a specific area. The objective is to design, set up and operationalize the WATSON platform. Firstly, functional and non-functional requirements will be mapped into system specifications and the platform architecture will be developed.
Two iterations in design and development will be carried out, which will drive a comprehensive validation campaign of the platform's features and performance. The  database will be populated with relevant material originating from both external sources and project-generated content and relevant training material will be produced  to educate users of the WATSON platform on its efficient use.
Partners involved: Exodus, Kapitalise. Imperial College and University of Maastricht.
WP6 – DISSEMINATION AND EXPLOITATION
The objective of this WP is to develop a comprehensive and extensive strategy for exploitation and dissemination of the results and communication of the project. This set of activities in this work package will:
Protect the intellectual property generated during the project
Promote and exploit the results of the project
Disseminate and communicate activities beyond the consortium to a wider audience
Promote the action and visibility of EU funding
Contribute to SMEs funding policy
Create a cross-sector Stakeholder panel to increase the impact of the project
Partners involved: All partners will be involved in this work package.
WP7 – ETHICS REQUIREMENTS
This work package sets out the 'ethics requirements' that the project must comply with.
Partners involved: All partners will be involved in this work package.